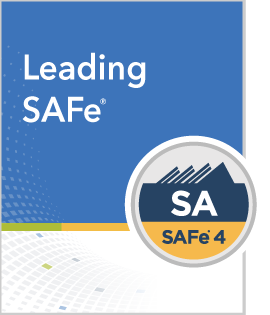 During this two-day Leading SAFe® course, attendees will gain the knowledge necessary to lead a Lean-Agile enterprise by leveraging the Scaled Agile Framework® (SAFe®), and its underlying principles derived from Lean, systems thinking, Agile development, product development flow, and DevOps.
They will also learn and practice the skills for supporting and executing PI Planning events, and coordinating multiple Agile Release Trains (ARTs).
Attendees will gain an understanding of the Lean-Agile mindset, why it's so effective in today's adapt-or-die marketplace, and what it means to lead a Lean-Agile transformation.
They'll also learn how to build and support Agile teams and programs, empower a Lean Portfolio, build a Continuous Delivery Pipeline and DevOps culture, and coordinate large solutions.
They will develop a skillset that's in demand worldwide—and empower their enterprises to succeed in a disruptive marketplace—when they become a SAFe® 4 Agilist (SA).
During this Leading SAFe® training you will learn:
- The application of SAFe® in the scaling of Agile and Lean projects.
- recognising and applying the principles of the Lean-Agile philosophy
- Support agile release trains.
- Plan and execute a PI Planning
If you pass the exam you will receive:
- the SAFe® SA certificate
- the SAFe® SA membership for one year
For more information please contact me.